LARGEST TITANIUM BILLET INVENTORY
IN NORTH AMERICA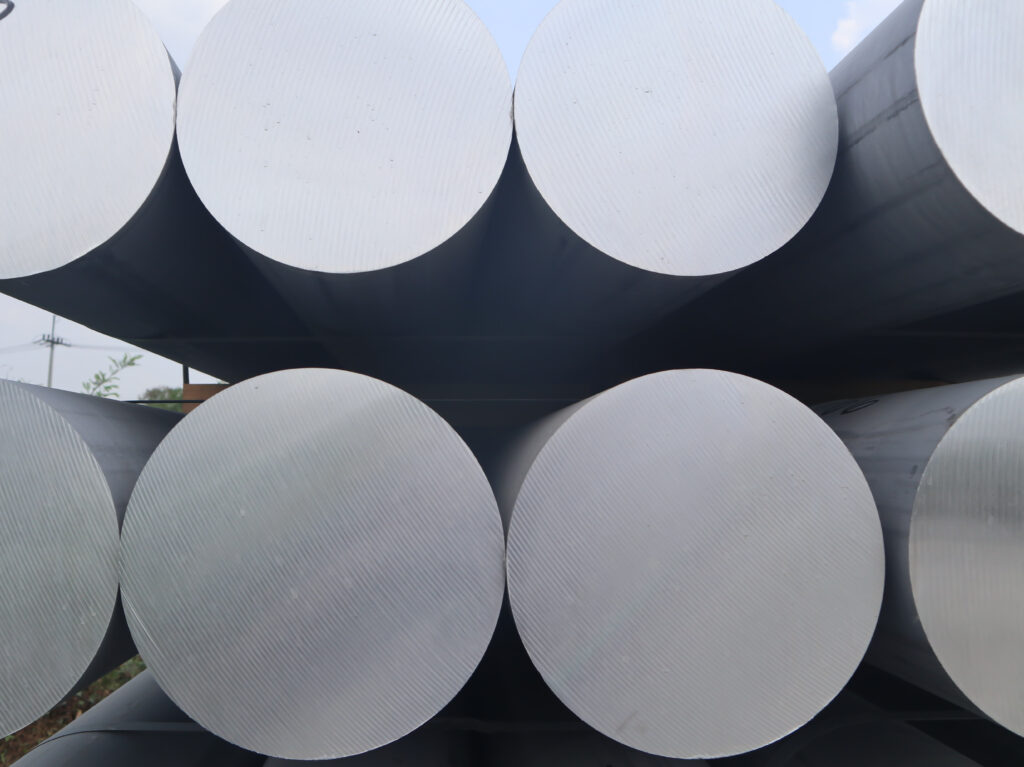 Titanium Processing Center (TPC) is a Complete Stocking Distributor and Service Center of DOMESTIC / DFAR compliant material with original mill test certificates for complete traceability. TPC carries titanium billet stock in a wide variety of grades and sizes that fit a wide range of specifications. In addition to DOMESTIC / DFAR compliant material, we also carry imported stock. You can be assured that our products will meet your needs.
Titanium Processing Center (TPC) serves the Aerospace, Power Generation, Marine, Oil & Gas, Medical, and Military industries. TPC is an ISO 9001 and AS9100 certified company.
A billet is a length of metal that has a round or square cross- section, with an area less than 36 square inch. Billets are created directly via continuous casting, extrusion, or indirectly via rolling an ingot.
Our extensive inventory of consistent products, product knowledge, band sawing capabilities, lead times, and prices makes us the best place to buy titanium billets now, five, and ten years from now. Titanium Processing Center offers a wide range of billets from different alloys and a variety of sizes.
Titanium Round Billet Size Range:
Min diameter: 4.5 (114.3 mm)
Max diameter: 20.00″ (508.00 mm)
When you need to buy titanium billets, we are the ideal source.
AVAILABLE Titanium Alloys AND SPECIFICATIONS
6AL-4V GRADE 5 / UNS R56400
6AL-4V ELI GRADE 23 / UNS R56407
6AL-4V STA / UNS R56400
6AL-4V GRADE 5 / UNS R56400
AMS 4928
AMS 4967
AMS 6931
ASTM B348
ASTM B381
ASTM F67
6AL-4V ELI GRADE 23 / UNS R56407
6AL-4V STA / UNS R56400
AVAILABLE Commercially Pure Titanium AND SPECIFICATIONS
GRADE 1 CP 4 / UNS R50250
GRADE 2 CP3 / UNS R50400
GRADE 3 CP2 / UNS R50550
GRADE 4 CP1 / UNS R50700
GRADE 7 / UNS R52400
Grade 12 / R53400
GRADE 1 CP 4 / UNS R50250
ASTM B348
ASTM B381
ASTM F67
GRADE 2 CP3 / UNS R50400
GRADE 3 CP2 / UNS R50550
GRADE 4 CP1 / UNS R50700
GRADE 7 / UNS R52400
Grade 12 / R53400
DO YOU HAVE ANY QUESTIONS?  FOR ALL TITANIUM GRADES PER AMS,  ASTM, MIL-T, ASME SPECIFICATIONS, DFAR COMPLIANT, OR IMPORTED MATERIAL, PLEASE CONTACT TITANIUM PROCESSING CENTER FRIENDLY SALES TEAM AT 888-771-9449, SEND AN E-MAIL, OR SEND US AN INSTAQUOTE

LARGEST TITANIUM BILLET INVENTORY
IN NORTH AMERICA